Juicy Couture Parfum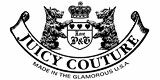 Het opvallende en uitbundige merk Juicy Couture heeft naast een kledinglijn ook heerlijke geuren. De eigentijdse aroma's van het Juicy Couture parfum hebben allen hun eigen stijl en zijn gegarandeerd origineel. De meeste geuren richten zich op de moderne vrouw met een flinke dosis lef. Door de sterk bloemige geur zijn de parfums op-en-top vrouwelijk, iets wat ook de flesjes uitstralen door veelvuldig gebruik van roze, goud, strikken en bloemen. Met een Juicy Couture heren parfum vergeet het merk ook de zelfverzekerde, sexy man niet.
Meer informatie Juicy Couture parfum 100 ml
U heeft bij ParfumCenter een ruime keuze aan parfums. Ook voor de populaire Juicy Couture parfum 100 ml flesjes kunt u bij ons terecht. Gaat u voor verleiding, een boheemse sfeer, mannelijkheid of een ambitieuze, rebelse geur? Wat u ook kiest, met een Juicy Couture parfum van 100 ml zit u altijd goed. Bent u op zoek naar een leuk cadeau voor vrienden of familie? Dan kunt u bij ons ook terecht voor kleinere flesjes parfum van dit eigenzinnige, vrolijke merk.
Juicy Couture parfum goedkoop
Bent u op zoek naar een opvallende geur? Dan kunt u bij ons uw Juicy Couture parfum goedkoop bestellen. ParfumCenter levert 100% authentieke parfums in de originele verpakking. Naast heerlijke geuren hebben wij ook een ruime keuze aan producten voor de huidverzorging waaronder een Juicy Couture bodylotion en showergel die perfect samengaan met de geuren van dit merk. Bestel uw Juicy Couture parfum goedkoop en eenvoudig bij ParfumCenter en laat uw uitbundige karakter stralen!